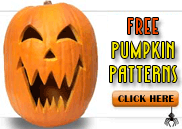 MAIN CONTENTS

Featured Articles
The latest Halloween ideas, information and articles from our staff.
Halloween Costumes
Halloween Costumes, Halloween Masks and Makeup ideas.
Halloween Decorations
Halloween decorations you can make or buy for the spookiest night.
Halloween Recipes
Our cookbook filled with Halloween recipes, tasty tricks and treats.
Halloween Games
Spooky Halloween games adaptable for both kid's and adults.
Halloween Party
Halloween Party ideas and planning for a successful party.
Halloween Safety
Safety information, tips and suggestions for a safe Halloween.
101 Halloween Tips
That's right, 101 simple Halloween ideas, tips and suggestions!
Halloween Props
Spooky Special Effects and Props for your Halloween haunt.
Pumpkin Carving
Pumpkin carving tips for carving Halloween Jack O' Lanterns.
Movies & Music
Suggestions for the best Halloween music and Halloween movies.
Halloween Crafts
Halloween craft ideas and instructions for lots of Halloween fun.
High-Tech Halloween
Ghostly gadgets for the computer, cell-phone, Palm Pilot and more!

2016 Halloween Ideas, Costumes, Decorations and Props, Halloween Party Planning, Spooky Games and Activities and Pumpkin Carving articles since 1994! The great news is that the next three years will be great for our favorite holiday! This year, Halloween will fall on a Friday allowing both kids and grown-ups to stay out much later than a week night. Now celebrating our 21st year online! Since times really are tough financially right now, be sure to check out our budgeting and money saving articles for lots of great tips and suggestions for getting the most fright for your buck.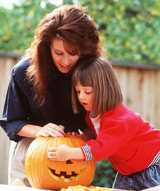 Free Pumpkin Carving Patterns!
Looking for the very best selection of pumpkin carving patterns anywhere on the Net? Well, SpookMaster is the place to go!
With hundreds of unique and unusual designs, they have an incredible selection of top-rate pumpkin patterns. But the best news is...all of their carving patterns, templates and stencils are free, that's right, absolutely free! Just head on over to their web site, download all patterns you want directly to your computer, print them out and start carving.
Some Things Really Are Free!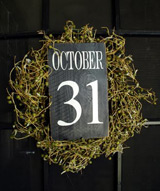 Halloween Party
One of the most fun and fulfilling things you can do during the season is host a Halloween party for your friends and family. Whether it's a children's party or one just for grown-ups, there are so many great treats, games, music, atcivities and foods that you can lavish your guests with. Planning and decorating for your party should be an all out spook fest!
For those holding a Halloween movie party, be sure to check out our Movies and Television Guide for lots of spooky viewing suggestions. In addition to the classic "Halloween" movie franchise brought to us by John Carpenter, there are a slew of other horror movies just waiting to be watched. You'll find a ton of stuff to watch in the Movie Guide section for kids, adults and everyone in between! Click Here.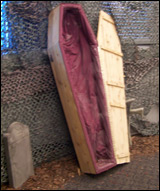 Halloween Decorations
Its never to early to get in the mood for Halloween. In fact, some of us are in that mood all year long! Now that Fall is finally here, its time to start thinking about how you will decorate your home A full size coffin prop such as the one to the right is a great addition to your Halloween decor.
Our decor section can show you some interesting and fun ways to decorate inside and out. Also try our crafts section for decorations that you can make on your own if you are a crafter. With the economy so bad, lots of stores are dropping prices just to stay in business and provide what the customer needs. Be sure to take advantage of all of these sales! Click Here.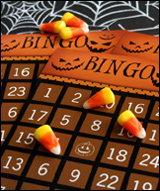 Halloween Games
Check out our selection of classic games like "Bobbing for Apples" and more modern games like the much asked for "Hal O' Ween" game, and even a collection of printable puzzles that you can download. This gives you some fast game entertainment for any party. Just print out and play!
Party games will help your party fun and flowing smoothly. Sometimes it's just as much for adults to play children's games as it is for the kids and all of these games can be adapted for both types of party's quite easily. If your party seems to be hitting a snag, just get a game of some kind going and it's sure to perk your party up! Click Here.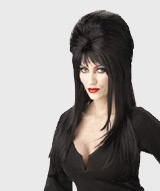 Halloween Costumes
One of the things that makes this such a wonderful holiday is that you can dress up and pretend to be just about any fanciful character you want and still be socially accepted. Be sure to try and order your costumes well in advance to give you plenty of time to make sure that your costume fits properly and you have time to accessorize your individual look.
Caution - Some online retailers are just affiliates and do not actually stock the products they sell. They pass the order to a distributor and the products are dropped shipped. The Costume Kingdom is one reputable online costume retailer that does stock and ship their products in-house.