MAIN CONTENTS

Featured Articles
The latest Halloween articles from the staff of Halloween Online.
Halloween Costumes
Halloween Costumes, Halloween Masks and Makeup ideas.
Halloween Decorations
Halloween decorations you can make or buy for the spookiest night.
Halloween Recipes
Our cookbook filled with Halloween recipes, tasty tricks and treats.
Halloween Games
Spooky Halloween games adaptable for both kid's and adults.
Halloween Party
Halloween Party planning and ideas for your festivities.
Halloween Safety
Safety information, tips and suggestions for a safe Halloween.
101 Halloween Tips
That's right, 101 great Halloween tips, ideas and suggestions!
Halloween Props
Spooky Special Effects and Props for your Halloween haunt.
Pumpkin Carving
Pumpkin carving tips for carving your Halloween Jack O' Lanterns.
Movies & Music
Suggestions for the best Halloween music and Halloween movies.
Halloween Crafts
Halloween craft ideas and instructions for lots of Halloween fun.
High-Tech Halloween
Ghostly gadgets for your computer, cell-phone, Palm Pilot and more!
| | | |
| --- | --- | --- |
| --- | HALLOWEEN MUSIC & SOUND FX | --- |
We all know how much music can enhance the atmosphere in a movie. Well, the same works for Halloween. Selecting the right Halloween music for your Halloween festivities, whether its spooky music playing on your front porch or from a window in your house, or at your Halloween party, it will definitely add to the mood of the spookiest night of the year.
Over the years we've collected a huge library of Halloween related music and sound CD's. Below are some of our favorite picks and where you'll find music that will work as party music or haunt music. Halloween rock is also in abundance in the Party Music section. Soundscapes have mood music that will haunt your nights or your yard haunt!
Use music and/or sound effects that complement the particular theme or atmosphere outside your home. As an example, if you have setup a graveyard in your front yard and are illuminating your house with blue light, chose an ethereal, ghosting sounding music to play in the background.
In addition to using our stereo system and portable CD players, we also use our computer to play background music and some of our sound effects Halloween night. This allows us to play a music CD, but also play WAV, MP3 or MIDI sounds files as well.
Sinister Soundscapes
A soundscape is a piece of instrumental (usually no vocals) music intended to create a particular mood and enhance the atmosphere based on the theme.
Nox Arcana - Gothic Music for Halloween or a Dark and Stormy Night.
Midnight Syndicate - Gothic Horror Fantasy Soundtracks
Other Halloween Soundscapes

Macabre Movie Soundtracks
Our top picks for the best movie soundtracks to use for your Halloween enjoyment.

Halloween Party Music
Our top picks for the best party music to use for your Halloween party.

Halloween Sound Effects
Our top picks for the best sound effects CD's to use on Halloween night.

Halloween Audio Editing
How to edit your spooky music and sound effects.

Halloween Music Sound Systems
Different ways to play your Halloween music and sound effects on Halloween night.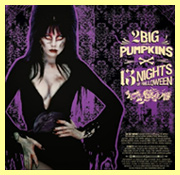 Elvira's Back! - Have A Delightfully Frightful Time With Elvira On Purple Vinyl! This month two new original recordings from Elvira Mistress of the Dark are being released! Both "2 Big Pumpkins" and "13 Nights of Halloween", Sung by Elvira herself and were written by Fred Schneider of the B-52s, both songs brim with fun double-entendres, campy cackling, devilishly danceable beats and so much more. If that weren't enough, the cover art for the single is printed with heat-reactive ink. So while Elvira may appear to be only a dark silhouette, once things heat up you'll definitely get a delightful eyeful. The 7 inch vinyl records are sure to be a hit at any Halloween party. Click here for ordering info!