| | | |
| --- | --- | --- |
| --- | H.P. LOVECRAFT INSPIRED MOVIES | --- |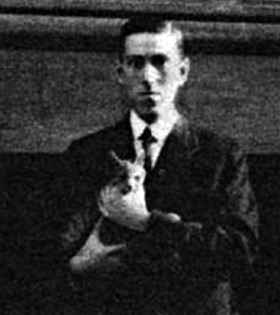 Halloween is the best time to watch one or more of these strangle and often disturbing films. Below are our favorite thirteen H.P. Lovecraft inspired movies:
Re-Animator
A dedicated student at a medical college and his girlfriend become involved in bizarre experiments centering around the re-animation of dead tissue when an odd new student (Jeffrey Combs) arrives on campus.
Herbert West has a very good head on his shoulders... and another one in a dish on his desk! Deep within the morgue at Miskatonic University, arrogant madman West (Jeffrey Combs) introduces fellow graduate student Dan Cain (Bruce Abbott) to his startling formula for the re-animation of fresh corpses. But the secret of life and death has some very messy consequences. Be warned that this movie is very gory and has several very disturbing scenes! 1985
Bride of Re-Animator
The mad Dr. Herbert West (Jeffrey Combs), the tormented Dr. Dan Cain (Bruce Abbott), and the beheaded Dr. Carl Hill (David Gale) return in this terrifying sequel to Re-Animator, the most deliriously outrageous horror movie of the decade. It's been eight months since the Miskatonic Massacre stained the halls with blood - and Dr. West and Dr. Cain's experiments have taken a bizarre turn.
Now they have gone beyond re-animating the dead...into the realm of creating new life. The legs of a hooker and the womb of a virgin are joined to the heart of Dr. Cain's dead girlfriend - and the bride is unleashed upon her mate in a climax of sensual horror. 1989
Beyond of Re-Animator
Jeffrey Combs, Jason Barry, Elsa Pataky. The mental maggot Dr. Herbert West may be in prison but his deranged mind is not in check. From his cell, he conducts his experiments on all that is available rats and in doing so, garners the attention of a new young prison doctor. 2003
Dagon
Based on his short story, Dagon tells the story of a fishing village tempted by greed who evolve into freakish half-human creatures and must sacrifice outsiders to an ancient, monstrous god of the sea. 2004
H.P. Lovecraft's: Necronomicon
Journey into the pit of hell with horror master H.P. Lovecraft (Jeffrey Combs) in this chilling thriller. An intoxicating thrill ride filled with gruesome special effects. 1994
From Beyond
Adapted by Stuart Gordon "From Beyond" is pure Lovecraftian science-terror. Out-there scientist Dr. Pretorious (Ted Sorel) and his assistant Dr. Tillinghast (Jeffery Combs) are working towards breaking through earthly perceptions and revealing a new alternate universe. They do this by stimulating the pineal gland of the human brain which enables people to see the strange creatures that inhabit a parallel dimension. Unfortunately these creatures can now see humans as well and they are none too pleased with it.
Dr. Pretorious is killed by the floating monstrosities but the police blame his assistant for the murder and lock him up. Only Dr. Katharine McMichaels (Barbara Crampton) believes the insane tales of Dr. Tillinghast and it's up to her to shut down the experiment that threatens to unleash the other-dimensional creatures on this universe forever. Great special effects and solid performances by Combs and Crampton complement a near-perfect realization by Gordon of Lovecraft's vividly detailed and chilling vision of scientific possibilities.
The Dunwich Horror
Lurking in the quiet village of Dunwich, a supernatural horror lies in wait in this adaptation of an H.P. Lovecraft story. When a cute college coed (Sandra Dee) and her professor (Ed Begley) visit the library at the infamous Miskatonic University, they discover a young man (Dean Stockwell) who wishes to check out the dreaded Necronomicon. An ancient book for divining demons, the Necronomicon allows its user to bring hell to Earth, and human sacrifice is the required offering. Pretty young Sandra Dee is the creature's prey. 1970
Castle Freak
Stuart Gordon takes you on a pulse pounding roller- coaster ride in Castle Freak. one of the most macabre thrillers you'll ever experience. John Reilly (Jeffrey Combs - Re-Animator), Susan (Barbara Crampton - Young & The Restless) and their daughter come face to face with terror when they travel to Italy to move into a castle they have inherited. They soon discover it is haunted by a relentless blood- thirsty creature. When mutilated bodies start turning up, John must uncover the Reilly family's dark secret to save his wife and child from the sadistic being. 1995
The Resurrected
Charles Dexter Ward's wife enlists the help of a private detective to find out what her husband is up to in a remote cabin owned by his family for centuries. The husband is a chemical engineer, and the smells from his experiments (and the delivery of what appear to be human remains at all hours) are beginning to arouse the attention of neighbors and local law enforcement officials. When the detective and wife find a diary of the husband's ancestor from 1771, and reports of gruesome murders in the area begin to surface, they begin to suspect that some very unnatural experiments are being conducted in the old house. 1991
In Search of Lovecraft
While shooting a Halloween news story on horror writer H.P. Lovecraft, reporter Rebecca Marsh (Renee Sweet) discovers that the fiction Lovecraft wrote is actually true; the creatures and cults described in his writings really exist. She enlists the help of her cameraman, an occult expert, and Keja (Playboy Model Rachael Robbins Screaming Dead, Kentucky Fried Horror Show), a sexy witch who is expert on the Lovecraft mythos. Only together may they survive the vicious attacks of the cult s creatures. 2009
Masters of Horror - Stuart Gordon - Dreams in the Witch House
When stressed-out student Walter Gilman rents a room in a decrepit old house, his graduate thesis studies begin to take some very strange twists: He suffers nightmares about a voracious rat with a human face. He suspects that a gateway to another dimension may exist behind his wall.And he is seemingly seduced by a luscious she-demon who thirsts for souls of the innocent via a covenant that screams for blood. But when Walter must face the most depraved urge of all, will the line between madness,murder and unholy mayhem be crossed forever? Chelah Horsdal and Jay Brazeau co-star in this disturbing shocker directed by Stuart Gordon. 2005
HP Lovecraft's - The Dark Sleep
The Dark Sleep is a new horror film depicting a nightmarish journey into another dimension when a young woman discovers the remnants of an ancient cult beneath her house. The Dark Sleep features amazing stop-motion animation special effects in the Ray Harryhausen tradition and writer/director Brett Piper's visual flair brings this adaptation of Lovecraft's "Dreams in the Witch House to vibrant frightful life. 2012
In the Mouth of Madness
The mind-bending worlds of author H.P. Lovecraft have long interested horror directors, but the films have rarely successfully captured his nightmarish mix of madness and mythology. With the disappearance of hack horror writer Sutter Cane, all Hell is breaking loose...literally! Author Cane, it seems, has a knack for description that really brings his evil creepy-crawlies to life. Insurance investigator John Trent is sent to investigate Cane's mysterious vanishing act and ends up in the sleepy little East Coast town of Hobb's End. The fact that this town exists as a figment of Cane's twisted imagination is only the beginning of Trent's problems... 1995
The Whisperer in Darkness
Written in 1931, H.P. Lovecraft's iconic genre-bending tale of suspense and alien terrors is brought to life in the style of the classic horror films of the 1930s. Horror and science fiction collide in the adventure of Albert Wilmarth, a folklore professor at Miskatonic University, as he investigates legends of strange creatures rumored to dwell in the most remote mountains of Vermont. Wilmarth's investigation leads him to a discovery of horrors quite beyond anything he ever imagined, and ends in a desperate attempt to escape the remote New England hills with his life and sanity intact. 2011
Colour from the Dark
It's the 1940's, and World War II is raging. Pietro and Lucia live on an isolated farm with Alice, Lucia's younger sister. Alice is a 23 year old who suffers from severe mental problems. They live their simple lives tilling the soil as poor farmers. Pietro is a good worker and a strong man, who unlike his three brothers, is not at war because of a deformed knee. Lucia is a beautiful and reserved woman dedicated to her family. Their life is peaceful and good, in spite of the hard work and isolation. One day, while drawing water from the well, Pietro and Alice stir something at the bottom, at first an apparently insignificant event, which frees something from Earth' womb. A strange and alien color flashes underwater, at the well's bottom, then disappears. From that moment on, inexplicable events start happening all around the farm, and by night, the surrounding vegetation glitters with a sinister glow. The color soon takes a hold of the entire farm, and seeps inside Pietro and his family's minds, drawing them into its sick world of pain, blood and death... (2006)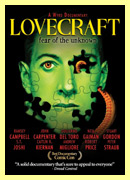 Lovecraft: Fear of the Unknown - Documentary
H.P. Lovecraft was the forefather of modern horror fiction. What lead an Old World, xenophobic gentleman to create one of literature's most far-reaching mythologies? What attracts even the minds of the 21st century to these stories of unspeakable abominations and cosmic gods? This release is a chronicle of the life, work, and mind that created these weird tales as told by many of today's luminaries of dark fantasy including John Carpenter, Guillermo Del Toro, Neil Gaiman, Stuart Gordon, Caitlin Kiernan, and Peter Straub. Extras include 90 minutes of extended interviews, stills galleries of Lovecraftian art, "Making of the Music" featurette, trailer, and coming attractions. A well made and insightful documentary from 2009.