| | | |
| --- | --- | --- |
| --- | CELEBRATING HALLOWEEN ALL OCTOBER LONG | --- |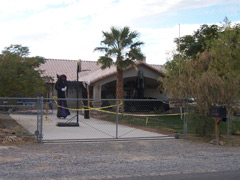 October 8th - While driving through town today my wife and I noticed that seven homes had already decorated the outside of their houses and their yards for Halloween.
Later, when we stopped for lunch at our favorite Chinese restaurant, we saw a mom and her two young daughters at the buffet, both of the girls were wearing orange Jack O' Lantern t-shirts and little pumpkin stem tiara's. I took a few minutes to complement her on letting her children dress for Halloween so early in the month. She told me that it was both her and her kids favorite holiday.
While October 31st. will always be the official date for celebrating Halloween and the climax to this spooky holiday, every year we see that it is being honored starting earlier in the month of October. For decades we have started our festivities on October 19th. with our "The Thirteen Days of Halloween" festivities and begin decorating our home inside and out. While we have always decorated the inside of our house starting on October 1st with a few Halloween decorations, the past couple of years we've gone all out and put up as much as the house would hold. This year we decided to start adding some early decorations outside as well.
Retail & Business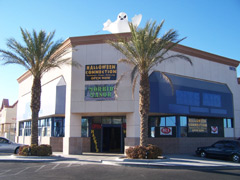 Seasonal brick-and-mortar stores such as Halloween Express, Spirit Halloween and Halloween City appear at the beginning of the month offering a huge selection of related merchandise and many department stores, market retailers and arts & crafts stores start stocking their Halloween products as early as the last week of August. In fact, by the second week in October some of these stores are almost sold out of Halloween merchandise! Michael's Arts & Crafts gets in one shipment of Halloween and seasonal merchandise and when it's gone, that's it. You'd think they would catch on and in order to keep sales up, bring in more shipments.
Owners of the Costume Kingdom online costume store told us that every year more and more people are ordering their costumes and accessories earlier in the month as well. Not only does this give the customer time to make any exchanges if needed, but it also brings in more revenue for the company. With the economy as bad as it's been Halloween all but fell from sight after the 2008 election. It seems to be making a come-back this year!
Even non Halloween related businesses are decorating their storefronts early in the month these days and more are allowing or even encouraging their employees to hold a Halloween office party. They are having professional window painters come in and decorate their front windows with Halloween themes and the store owners themselves are decorating earlier inside their shops.
Halloween Attractions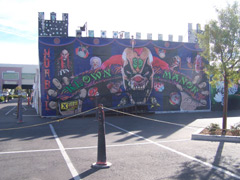 Large amusement parks like Knott's Berry Farm, Universal Studios, Six Flags and Cedar Point transform themselves into haunted versions of themselves after hour Friday through Sunday starting in September and running through Halloween. Some of them make the bulk of their yearly profit during this time. You'll also see several hundreds of smaller haunted attractions pop up in cities and smaller towns across the country that typically run every weekend or even every night through out the month, some are now even opening there creaky, cobweb covered doors in September. Some are done by charity organizations but the bulk are done by people that love Halloween and love to scare people. What may have started out as a small home haunt has now turned into a rented property that run 1,000 or more people through in a night. They are opening earlier and earlier every year.
More and more family owned farms are creating corn field mazes and offering haunted hay rides at night that can get pretty intense. Pumpkin patches, both real and temporary are becoming more entertainment orientated, setting up children's rides and games, haunts for adults and carnival games and food for people of all ages. Live Oak Canyon Ranch in Redlands, CA is both a pumpkin and Christmas tree farm. During September and October they have gone from being a place to cut your own pumpkins off the vine to a full blown pumpkin patch and carnival with rides, shopping, food, petting zoo and more.
Entire towns such as Salem, Massachusetts and Anoka, Minnesota celebrate Halloween all month long. There are quite a few towns that claim the title of "Halloween Capital of the U.S.", there are at least 10 that do and they all have their good points. It would be nice to take a week long trip to visit one city after the other. Some cities can truly claim that the title of "Halloween Town Extraordinaire" but you can only have one Capital!
Entertainment Industry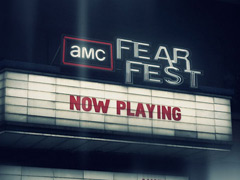 Horror movies are often released in theaters during the month of October and many television stations air horror movie marathons and Halloween themed specials weeks before or even all month long. In addition to AMC's yearly "Fear Fest" of horror movies, they are launching their third season of the extremely popular zombie apocalypse series "The Walking Dead" on October 14th. this year.
While the Chiller Channel is horror 365 days a year, they really ramp things up during the month of October including some great specials like "Can you Survive a Horror Movie?". They offer day long marathons of horror films all week long right now and we've seen some that we had never even heard of that were very good, so check them out if you pick up the Chiller channel. You can always count on the History Channel to air their wonderful documentary "The Haunted History of Halloween", both the original and the up-dated versions. There are lots of "The Haunted History of" programs on this channel during October. You'll find vampires, werewolves, real life witches, ghosts and other interesting shows there. Also check out the Travel Channel for lots of haunted America shows, highlighting different towns and places across the country that are know for haunted places.
Since 1997, TBS (Turner Broadcasting) has aired the classic Christmas movie, "A Christmas Story" in a twenty-four hour marathon, over December 24th. and 25th. We would love to see them do the same, running the original John Carpenter's Halloween and Halloween II movies back to back on October 31st.
In closing, we at Halloween Online believe that the days when this was once a one night bash are over and it is quickly becoming a month long extravaganza! Yippee!!